Father's Day Designs
Unveiling Exciting New Pottery Designs: Perfect Gifts for Gamer Dads, Tool Man Dads, and Rock 'n' Roll Dads
At Color Me Mine, we are always striving to bring fresh and exciting pottery designs to our customers. We understand that dads come in all types, each with their unique interests and passions. In this blog post, we are thrilled to introduce three brand new pottery design collections that cater specifically to gamer dads, tool man dads, and rock 'n' roll dads. These designs capture the nostalgia, hobbies, and personality traits that make these dads so special. Let's dive into the details and discover the perfect pottery pieces for each dad type.
Gamer Dads

A Blast from the Past: Calling all gamer dads! Our new collection of pottery designs pays homage to the golden era of 90s video games. These designs are inspired by iconic characters, symbols, and consoles that fueled the passion for gaming during that time. From pixelated heroes to retro controllers, each piece exudes nostalgia and captures the essence of those memorable gaming moments. Gift your gamer dad a ceramic masterpiece that reflects his love for gaming and transports him back to the exhilarating days of his favorite childhood games.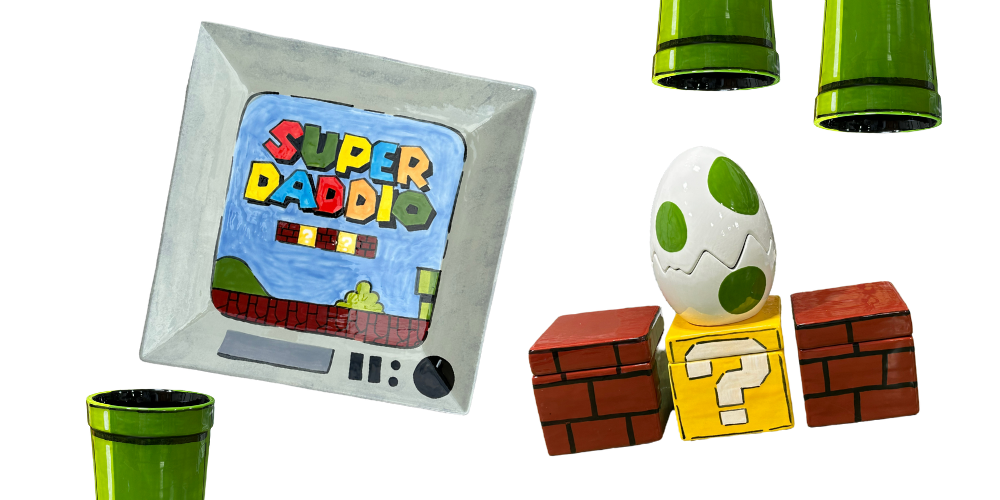 Tool Man Dads

Crafted for the Handy Heroes: For the dads who are always tinkering, fixing, and building, our tool man collection is the perfect fit. These pottery designs showcase tools of the trade, from hammers and wrenches to saws and screwdrivers. Each piece embodies the spirit of craftsmanship and celebrates the artistry of woodworking and DIY projects. Whether your dad is a seasoned handyman or simply enjoys working on home improvement projects, these tool-inspired pottery designs will surely resonate with his passion for creating and building.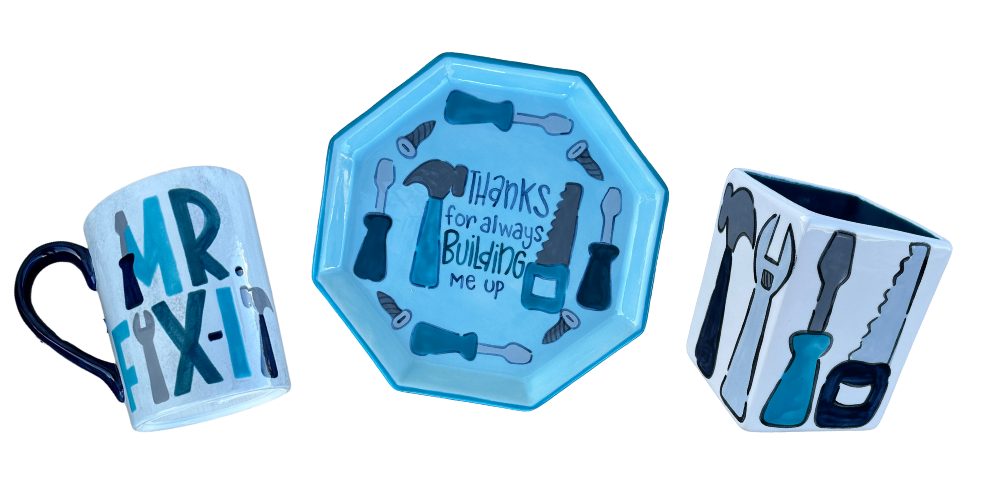 Rock 'n' Roll Dads

Unleash the Inner Rockstar: Is your dad a true rock 'n' roll enthusiast? Our rock-inspired pottery designs are made for the music-loving dads out there. From electric guitars and drum sets to vinyl records and concert tickets, this collection captures the essence of the rock 'n' roll lifestyle. These designs bring a touch of rebellious energy and a sense of nostalgia for the days of classic rock legends. Surprise your dad with a pottery piece that showcases his love for music and allows him to channel his inner rockstar.
Color Me Mine is thrilled to introduce these exciting new pottery design collections tailored specifically for gamer dads, tool man dads, and rock 'n' roll dads. Whether your dad loves reliving the 90s gaming era, is a master of tools and craftsmanship, or embraces the spirit of rock 'n' roll, our pottery pieces will undoubtedly bring a smile to his face. Celebrate your dad's passions and individuality with these unique and personalized ceramic masterpieces from Color Me Mine.